CIUDAD QUESADA OUTSTANDING SURROUDING IN 120 SECONDS
CIUDAD QUESADA, A JEWEL BY THE MEDITERRANEAN SEA
Our residential facilities are located on the Costa Blanca, in the South East of Spain. The Costa Blanca is well known for giving its fortunate residents and visitors an excellent quality of life, more than 300 days of sunshine a year, the benefits of the Mediterranean and its unique lifestyle, history, natural beauty and gastronomy.
Quesada's geographic position also gives it an advantage as it lies equi-distant from the cities of Alicante and Murcia, offering a cosmopolitan mix of culture and history, shopping and entertainment as well as giving access to both of their regional airports, where a huge variety of flights arrive daily from all across Europe.
Ciudad Quesada is only a few kilometres from the famous coastal town of Guardamar, offering Golden beaches, great shopping, a huge variety of restaurants and local farms to buy the freshest organic fruits and vegetables.
There are many sports and leisure opportunities available to enjoy such as 12 different Golf courses that can be reached in under 30 minutes drive, including the resort's own 18 hole championship course, La Marquesa Golf.
Within Quesada, clients have a choice of over 70 bars and restaurants, a fantastic infrastructure of healthcare and national and international schooling.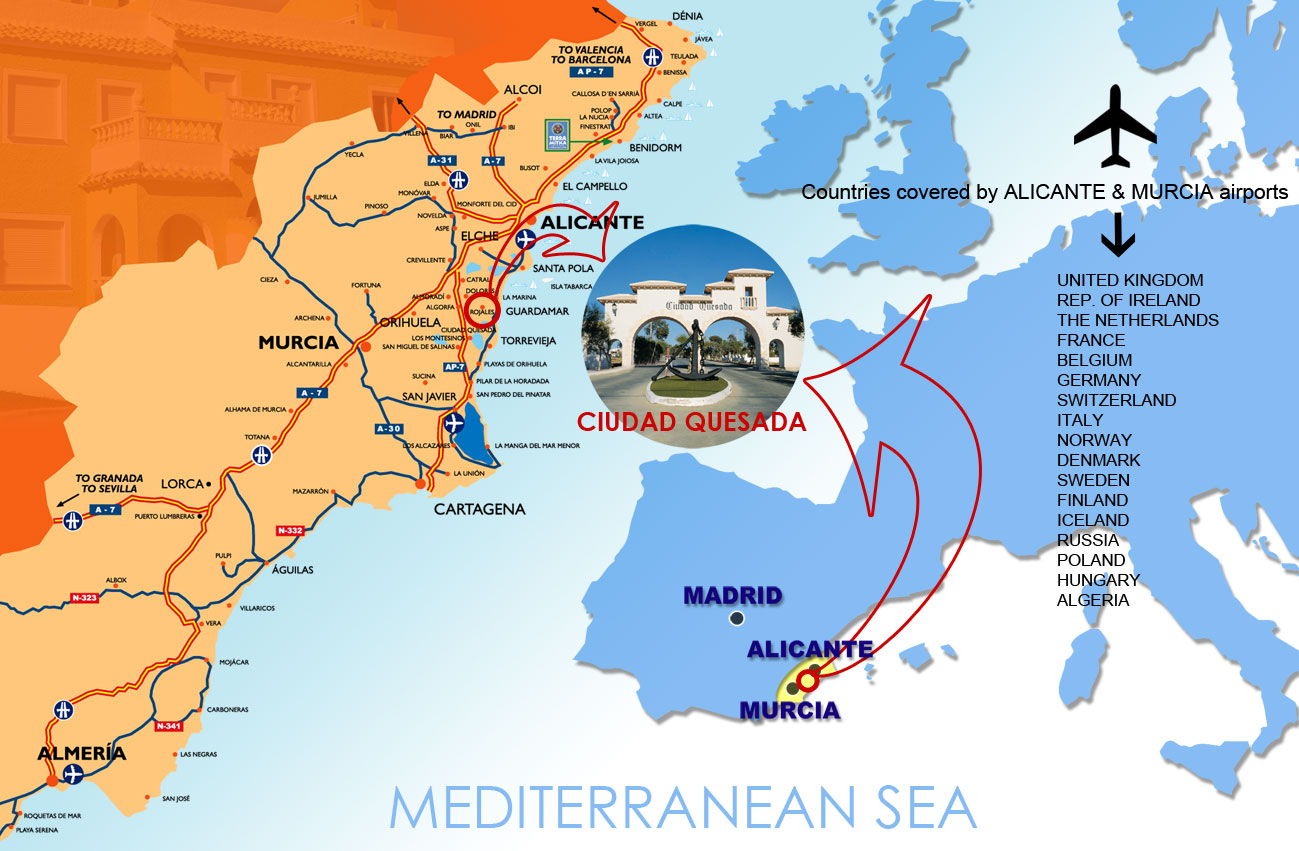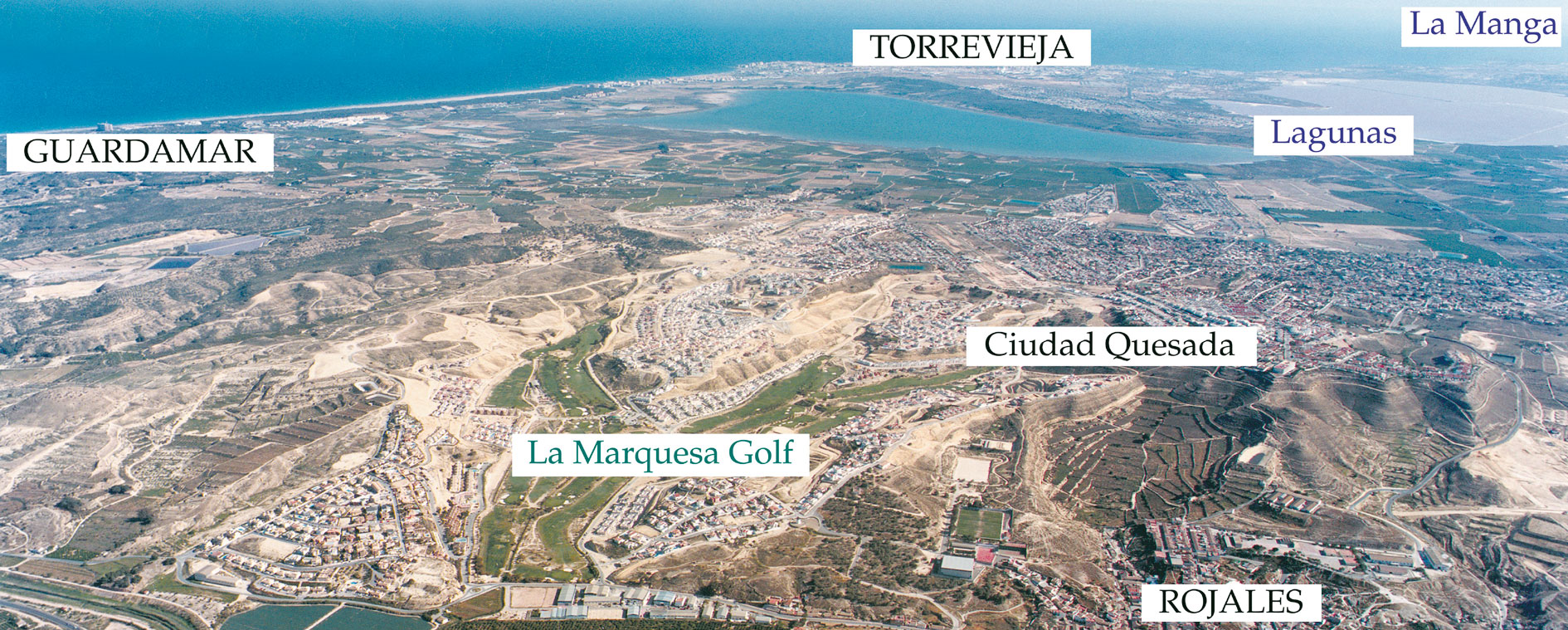 18 HOLES GOLF CLUB "LA MARQUESA"
Golf lovers will enjoy practicing their passion within our residential facilities with the 18 holes GOLF CLUB LA MARQUESA.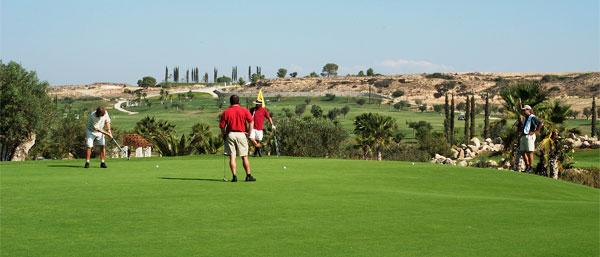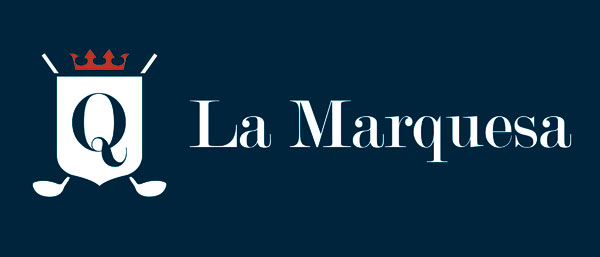 EXPECT THE BEST FROM CIUDAD QUESADA
SPORT AND LEISURE
Given the wonderful weather the South of Spain enjoys and the healthy way of life the area is famous for, its little wonder that there are many sports and leisure opportunities available for you to enjoy.
Golf plays a big part in life in the Costa Blanca. Indeed, from Quesada, 12 different courses can be reached in under 30 minutes drive, including the resort's own 18 hole championship course, La Marquesa Golf.
This part of Spain is also very enthusiastic about cycling, with miles of tracks and purpose built cycle-ways around the region. One of the area's most popular routes takes you from the golf course in Quesada to the beach at Guardamar alongside the river Segura while another passes between the salt lakes and carries on down to the area's new shopping centres in Torrevieja. A great way to keep fit while you explore the beautiful countryside.
Quesada also offers a variety of other sports including Tennis, Swimming, Horse Riding and lawn bowling (taking advantage of the purpose built facility at one of our two on-site country clubs) as well as our new gym and spa facility, situated in the main commercial zone.
Whatever your choice of sport, the combination of our climate, infrastructure and facilities help make Quesada the ideal choice for those who enjoy an active lifestyle.
ENTERTAINMENT & EATING OUT
To the Spanish, food and drink is so much more than a means of sustenance, it's more like a national obsession!
Admittedly, hamburger joints are becoming ever more prolific, but what characterizes Spanish food is the sheer variety and fresh nature of the country's fruit and vegetables, wine and wonderful meats allowing the preparation of an unsurpassed choice of healthy and tasty dishes.
Within Quesada, clients have a choice of over 70 bars and restaurants, many of which offer specialities from other parts of the world, while in surrounding towns and villages you can sample some of the area's more traditional dishes. If you are a lover of fish, then a short drive to the coastal town of Guardamar allows you to sample the wonderful world of Spanish seafood and shellfish, a choice that has to be seen to be believed and will certainly not be forgotten.
After dinner why not try one of the resort's popular bars, many of which have live entertainment and of course, being Spain, go on 'til the early hours.
Out of the resort there are lots of places to keep you entertained, from theme bars to bowling alleys, cinemas to live concert venues. In short Quesada and the surrounding area offers something for all tastes.
LOCAL BEACHES
Ciudad Quesada is only a few kilometers from the famous coastal town of Guardamar, offering not just miles of Golden beaches, but also one of only three remaining areas of natural sand dunes in mainland Spain.
The dunes attract visitors from all over Europe who come to enjoy the peace and tranquility of the area and the privacy it affords when compared to the busy beaches found elsewhere in the Mediterranean.
Away from the sand dunes you will find almost 21 kilometers of flat, well kept beaches, a great deal of which are covered by European Blue Flags, indicating the high quality of the water, the safety procedures in force and the facilities that are offered on site. In most areas these facilities will include bars and restaurants, some of which are actually located on the beach during the tourist season.
There are many other facilities along this part of the coast which help add to our client's beach experience. These include red cross stations at the most popular points, some of which are designated "Beaches without Barriers" stations, indicating that they feature access points, special parking spaces and on site assistance of those with mobility issues.
All these factors help make this part of Spain the ideal choice for beach lovers.
SHOPPING
Ciudad Quesada offers a variety of shopping opportunities, both within the resort itself and in the many towns, villages and cities of the region.
Shopping in Quesada consists of a mixture of large supermarkets, electrical retailers, designer outlets and banks, as well as golf equipment shops, car hire outlets, bakeries and even speciality shops supplying produce from all around the world at the request of their clients. This is a unique service and one which is only possible due to the number of clients who have moved from their home countries to live permanently on the resort.
The towns and villages which surround Quesada each have weekly street markets offering a huge variety of goods, including the freshest organic fruit and vegetables, which can be purchased directly from local farmers. A taste of real Spain and bargains galore.
Finally, in the big cities of Murcia, Elche and Alicante, your every wish really can be catered for. Spend the day at one of the huge indoor shopping malls, visit a designer outlet to pick up a bargain, or stroll through the streets and alleys of the old towns, exploring and shopping at your leisure. The choice is yours!
HEALTH CARE AND SCHOOLS
Cuidad Quesada was one of the first purpose built residential resorts in Spain and as such, has built up a fantastic infrastructure of healthcare and schooling over the years. Schooling is vitally important to a family who are considering a permanent move to a new country, so rest assured that here in Ciudad Quesada you will find all the information you need to help you make the right choices.
Whether your choice is for your children to attend a national school, a selection of which are in the local area and all of which provide free transport back and forward to the resort. Or maybe you prefer an international school? For our Scandinavian children we have a purpose built college here in the centre of the resort, the Norwegian Scholl (Den Norske Skolen) while for other nationalities there are a choice of internationally recognized facilities, ranging from schools specializing in children with learning difficulties, to a Kings College and several large bilingual schools.
The high level of healthcare is another factor which helps clients decide on this part of Spain for their new home. In Ciudad Quesada we have 2 medical centres and 4 pharmacies, as well as a 24 hour emergency medical facility in Rojales, just 2 minutes away by car. There are also 3 large hospitals within 20 minutes drive, giving you peace of mind and reassurance when you need it most.
CULTURES & TRADITIONAL FIESTAS
The traditions, history and culture of the Costa Blanca are celebrated every year in a colourful and vivid display.
Usually these celebrations involve street parades which wind their way through the town accompanied by marching bands and culminate in a huge fireworks display.
One of the most famous examples of these local fiestas is the "Moros y Cristianos". A huge festival celebrated in every town throughout the South of Spain, which commemorates the Christian Kings recapturing the land from the rule of the Moors. This is a spectacular fiesta, with colourful costumes, battle re-inactments, historical dramas and one of the largest parties you'll ever have attended!
"Las Hogueras de San Juan", the Bonfires of Saint John, is by far the most important event in Alicante's cultural calendar, and it stands out among the most popular festivals in all of Spain. A truly amazing experience, the somewhat extravagant celebration will certainly provide you with an exciting time and a wealth of anecdotes that will link you closely – inextricably, even – to this beloved Mediterranean city.
All are welcome and the fiestas are geared more towards celebration tan tourism, making you feel like you really are part of the local community, helping them celebrate their history.
Other famous fiesta include the Bunol "Tomatina" which is a huge tomato fight in the streets of this small Valencian town. Around 30,000 people take part in the "battle" using 130 tons of ripe tomatoes as ammunition and by the end, the street are rivers of tomato sauce!
Living or taking holidays in Spain has never been so much fun!
CIUDAD QUESADA, ONE OF THE BEST PLACES IN EUROPE!